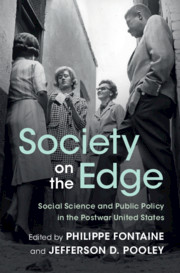 Society on the Edge
Social Science and Public Policy in the Postwar United States
Buy print or eBook
[Opens in a new window]
1 - Introduction
Whose Social Problems?
Published online by Cambridge University Press:  28 November 2020
Show author details
Summary
At first glance, the 1961 collection Contemporary Social Problems is indistinguishable from dozens of similarly named textbooks. The volume, edited by Robert Merton and Robert Nisbet, was the latest installment in a long-running genre of works aiming to orient American sociology undergraduates to a range of "social problems." Like its predecessors, the Merton and Nisbet collection featured a chapter-by-chapter march through a succession of named problems such as crime, drug addiction, and family disorganization.
Type

Chapter

Information

Publisher: Cambridge University Press

Print publication year: 2020