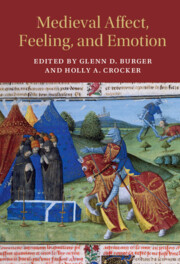 Coming soon

Expected online publication date:

March 2019

Print publication:

30 April 2019

Representations of feeling in medieval literature are varied and complex. This new collection of essays demonstrates that the history of emotions and affect theory are similarly insufficient for investigating the intersection of body and mind that late Middle English literatures evoke. While medieval studies has generated a rich scholarly literature on 'affective piety', this collection charts an intersectional new investigation of affects, feelings, and emotions in non-religious contexts. From Geoffrey Chaucer to Gavin Douglas, and from practices of witnessing to the adoration of objects, essays in this volume analyze the coexistence of emotion and affect in late medieval representations of feeling.
---
Jason Mackenzie, Henry Chen, Salah A Awadalla, Pramodha Marthandam, Bob Redden, Glenn Bindley, Zhong He, D. R. Black, Martine Duff, Mark Amman, J. S. Lee, Paul Luke, M Groza, A Burger
Journal: MRS Online Proceedings Library Archive / Volume 1164 / 2009
Published online:

31 January 2011

, 1164-L10-04

Print publication:

2009

The introduction of large single crystal and high performance CdZnTe (CZT) grown by the traveling heater method (THM) in 2006 has defied conventional myths about the capability of this crystal growth method with respect to the production of spectroscopic grade CZT and its commercialization prospect in medical imaging application. Since then, a lot of progresses have been made, both in the crystal growth and the devices sides. This paper focuses on the development of THM CZT in recent years. Crystalline defects which challenge the thickness scalability of large volume CZT detectors along with efforts and achievements in overcoming these challenges are discussed. Advances in THM CZT crystal growth include 100mm diameter ingot and state-of-the-art device fabrication will also be presented.
---