2
results
in Cambridge Handbooks in Behavioral Genetics
---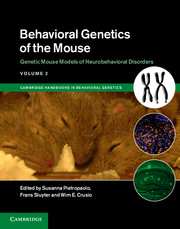 Volume 2, Genetic Mouse Models of Neurobehavioral Disorders
Print publication:

25 September 2014

The second volume of Behavioral Genetics of the Mouse provides a comprehensive overview of the major genetically modified mouse lines used to model human neurobehavioral disorders: from disorders of perception, of autonomous and motor functions to social and cognitive syndromes, drug abuse and dependence as well as neurodegenerative pathologies. Mouse models obtained with different types of genetic manipulations (i.e. transgenic, knockout/in mice) are described in their pathological phenotypes, with a special emphasis on behavioral abnormalities. The major results obtained with many of the existing models are discussed in depth highlighting their strengths and limitations. A lasting reference, the thorough reviews offer an easy entrance into the extensive literature in this field, and will prove invaluable to students and specialists alike.
---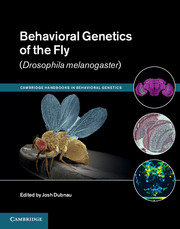 Print publication:

26 June 2014

The common fruit fly - Drosophila melanogaster - has been the subject of genetics research since the early twentieth century. The complete genomic sequence of Drosophila was published in 2000 and it is still the model organism par excellence for the experimental study of biological phenomena and processes. It is also by far the best model for studying gene function in mammals, including humans. Presenting state-of-the-art studies on the behaviour of Drosophila, this volume discusses normal and pathological models of neurobehavioral disorders and encompasses the specialised methods that have been used, from anatomical, histological, immunohistological and neurophysiological to genomic, genetic and behavioural assays. A comprehensive and thorough reference, this volume is a valuable resource for students and researchers alike across several disciplines of life sciences, including behavioral genetics, neurogenetics, behavioral neuroscience, molecular biology, evolutionary biology and population biology.
---