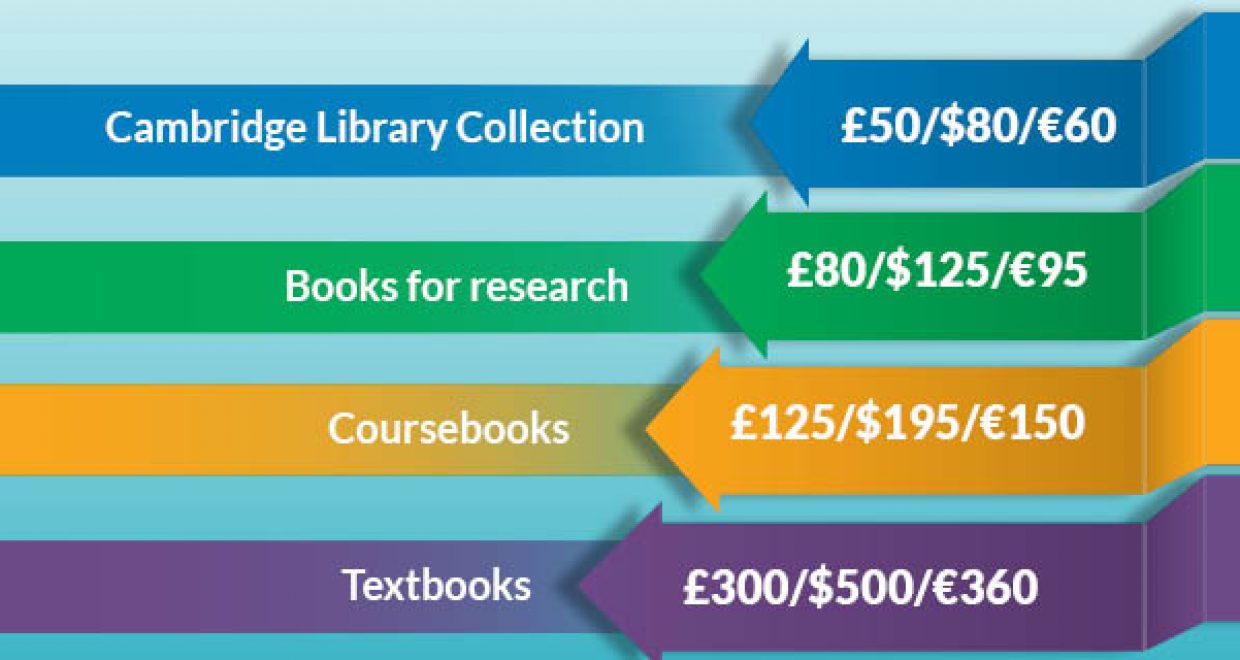 New institutional ebook pricing 2014
On May 1st 2014, we radically changed the pricing model for Cambridge ebooks available to institutions.
The changes have created a simpler pricing structure, making it easier for institutional customers to buy Cambridge ebooks.
Under the new model, nearly all 24,000 available titles are divided into four categories, with just one set price per category. The categories are Books for Research, Coursebooks, Cambridge Library Collection and Textbooks.
New pricing per title
Cambridge Library Collection: £50GBP, $80USD, €60Euro, $85AUD
Books for Research: £80GBP, $125USD, €95Euro, $135AUD
Coursebooks: £125GBP, $195USD, €150Euro, $210AUD
Textbooks: £300GBP, $500USD, €360Euro, $550AUD
No FTE multipliers
FTE bands and multipliers will no longer apply, so creating a simple underlying price structure for all titles.
No limited concurrency titles
All titles available direct from Cambridge from 1st May 2014 will have unlimited concurrency access.
We hope our customers will agree that the new pricing structure is easy to understand and will enable rapid price calculation and collection building.
We also anticipate that the new pricing structure will assist us in integrating seamlessly with library purchasing systems and also better support EBA models and advanced ordering, for which we are developing automated systems.
You can view the latest price lists here
More information
If you have any questions, or would like a price proposal under the new structure that is tailored to your institution, please contact online@cambridge.org in the Americas, or library.sales@cambridge.org in the Rest of the World.
These prices are correct as of 01/05/14 and may be subject to change in 2015.
This flat pricing model applies to ebooks on Cambridge Books Online and ebooks
from partner presses via University Publishing Online. Partner presses included
are Acumen, Anthem Press, Boydell and Brewer, The University of Adelaide Press,
Liverpool University Press, Foundation Books, Edinburgh University Press,
The Royal Economic Society and the Mathematical Association of America.