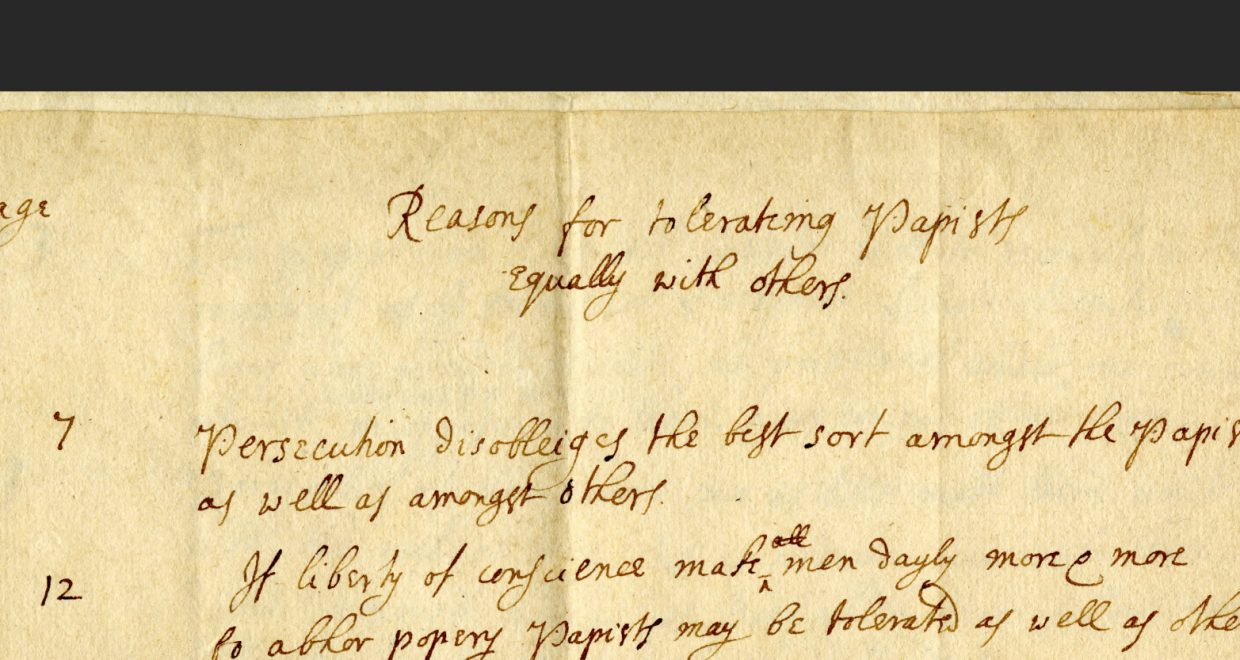 John Locke and the Toleration of Catholics: A New Manuscript
This blog accompanies J. C. Walmsley and Felix Waldmann's Historical Journal article 
John Locke and the Toleration of Catholics: A New Manuscript
John Locke's arguments for the freedom of religion, as expressed in his Letters on Toleration, are well-known and widely influential.
Locke published the first of these letters, the Epistola de Tolerantia, in 1689, but these were not his first arguments for toleration.
Locke had originally formulated his arguments for the liberty of religious conscience in an Essay Concerning Toleration, first written c.1667-8, then revised over several years.
The Essay was never published by Locke and his reasons for writing it have proved difficult to reconstruct. Until 1667-8, his writings on toleration were conservative. He would not tolerate people who dissented from the Church of England, and he was intolerant of Catholics, given their sworn allegiance to the universal sovereignty of the pope.
But the Essay, written soon after Locke joined the household of Anthony Ashley Cooper (1621-1683), later the first Earl of Shaftesbury, a significant political figure in his own time, shows Locke changing his mind.
Why and when Locke changed his mind are intriguing questions, but the available manuscript evidence from this period of Locke's life had frustrated attempts to answer them.
In 2015, J. C. Walmsley located an unknown manuscript in Locke's handwriting in St John's College, Annapolis, which derived from this period of Locke's life and had a direct bearing on the origins of his Essay. Entitled Reasons for tolerateing Papists equally with others, the manuscript is dated 1667 and appears to comment on a printed book.
Our article investigates the provenance and significance of the manuscript, showing how its content reveals that Locke is commenting on a book by Sir Charles Wolseley (1629/30-1714) called Liberty of conscience, the magistrates interest (1668), as a way of asking whether Catholics can be tolerated.
This question places the Essay concerning toleration in a new light, since it appears that the Reasons is most likely the immediate antecedent of – and inspiration for – the Essay, and may reveal Locke's initial interest in writing about toleration: his belief that Charles II would issue a Declaration of Indulgence for Protestant dissenters and Catholics in 1667-8.
We argue that the Reasons may be the first surviving statement of Locke's 'mature' theory of toleration – not necessarily as a defence of the toleration of Catholics, but (possibly) as a way for Locke to fashion a prospective theory of why Catholics could be tolerated, in case it should be needed by Shaftesbury to defend the King's policy, or as a method to test the intellectual strength of a theory of toleration for dissenters, in the event that the theory was misappropriated by Catholics for their own defence.
——–
Main image credit: St. John's College, Greenfield Library Archives, Annapolis, Maryland