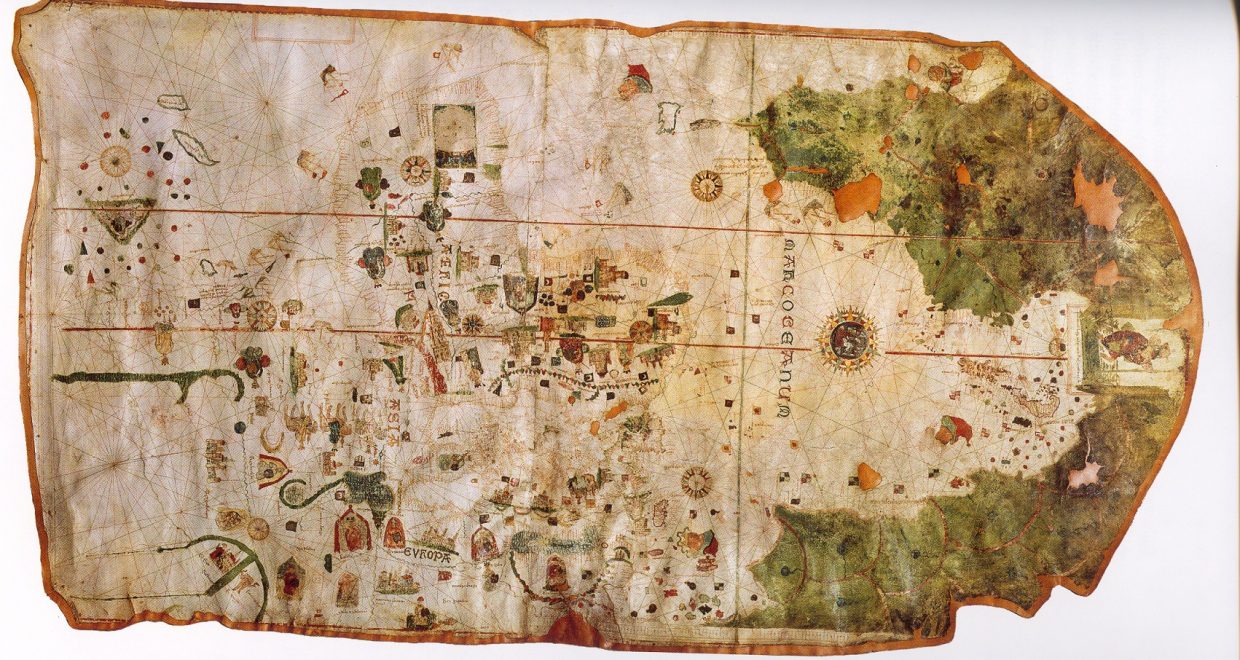 Projections of Desire and Design in Early Modern Caribbean Maps
This blog accompanies Angela Sutton and Charlton W. Yingling's Historical Journal article Projections of Desire and Design in Early Modern Caribbean Maps
There is a unique pleasure that comes from being involved in research that exceeds the expertise of any single scholar. Perhaps every historian entertains ideas for such projects, yet demur when confronted with acquiring another language, familiarity with new archives or historiography, or proficiency in a different time period. By its nature, Atlantic History especially is a comparative and connective field. The various paralleled processes that led to the colonization of the New World lend to this framework. We the co-authors spent a lot of time considering how to investigate the oppression manifested in the Caribbean across various empires and eras as we sat together in postgraduate seminars. The John Carter Brown Library's Collaborative Cluster Fellowship offered us the opportunity to once again cross-pollinate our bases of knowledge. We decided to collaborate on something that interested each of us, but too ambitious to tackle alone: an extensive cartographic analysis.
Like Atlantic History, Digital Humanities is another field primed for cross-pollination. In the 2010s, Digital Humanists took increasing interest in thick-mapping, the practice of layering, encoding, or ascribing extra-geographical information onto digital maps in order for those maps to carry multiple meanings and/or serve additional functions. As every historian knows, this approach is not unique to the present day. Most Medieval and early modern maps (such as the famous Mappa Mundi (pictured) contain as much extra-geographical information as they do accurate physical depictions. These images, cartouches, border illustrations, names, and shadings reveal much more about how mapmakers, explorers, and even their employers perceived space than about how the space actually was. In a sense, cartographers portraying early Atlantic processes practiced thick-mapping by encoding their maps with proscriptive and prescriptive ideas about space. Rather than solely attempting impartial accuracy, their images projected desire and design upon land and sea.
This makes maps very rich yet complex sources for exploring an overlooked cultural history of the early modern era. Finding such congruencies and discrepancies among Spanish, Dutch, English, and French depictions of Indigenous and African lives or flora and fauna in the Caribbean, as with Portuguese, Danish, Swedish, and other imperial processes elsewhere in the Americas, requires the diverse perspectives of scholars willing to converse outside their comfort zones.
In analyzing the evidence and writing the article together, we considered several ways in which colonizer culture expresses or fails to express evidence of Indigenous and African interaction with the changing landscape of the Caribbean, and why this might be. This led us to questions about the interplay of desire and design when it came to European mapping practices in the early modern era, and how these considerations allow for a type of reading against the grain. This article experiments with ways in which scholarship can be enriched with more thorough investigation of early modern Caribbean maps as primary sources for scholars of the Atlantic World. We hope that considering extra-geographical information will prove useful, or that scholars might incorporate "thick-mapped" sources as contributive to their work.
---
Main image credit: Map of Juan de la Cosa.