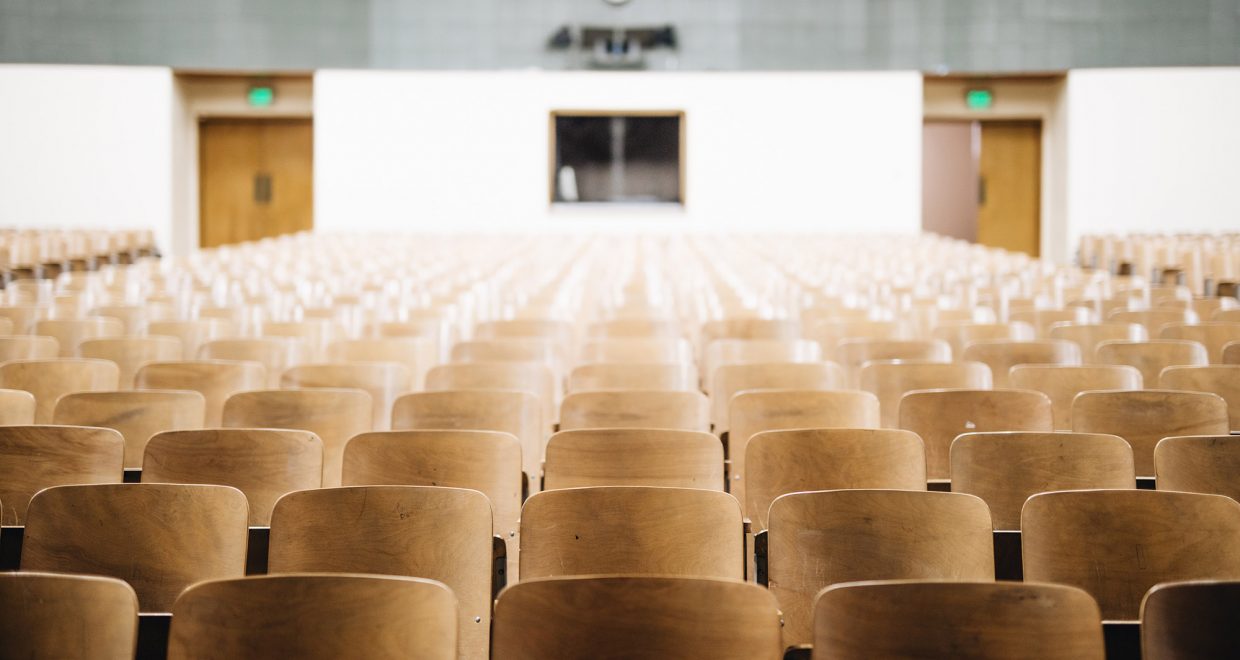 Academics at the Forum: Yes, it Still Matters; No, it's Not Any Better, Part 2
In my last post, I discussed the number of academics at  the UN Forum on Business and Human Rights, and the lack of improvement in representation over the past three years. I care about the inclusion of academics not simply because it's my job this year to care about this as the co-President of the Global Business and Human Rights Scholars Association. My concern predates that role, and you can see several of the reasons I've previously noted for why it matters that academics are not truly included in the Forum in the posts from the past two years.
This year, I'm going to explain the significance with (what turned out to be quite long) bullet points because I have little time for anything between now and 26 January (a date not-so-randomly chosen because it's pretty close to true and also my birthday; I'll accept delivery of presents to the Essex Law School and Human Rights Centre, thank you very much):
We have different skills and insights than other stakeholders. The Forum is sometimes so focused on experiential discussions that other types of evidence and overarching and broad-based considerations can get lost. Experiential – or anecdotal – discussions are an important piece of the puzzle, but they aren't the puzzle itself. Cross-cutting examinations, long-term studies, and in-depth assessments of particular industries or states can all add to the experiential testimony of other actors and point to structural issues that need to be addressed.
Along similar lines, people often present their own experiences as if they are easily extrapolated into other situations, but extrapolating data and experiences appropriately takes knowledge and skill in order to ensure that the lessons are applied appropriately in other contexts. Academics have to understand how their findings fit into – or don't – broader experiences. This is a basic part of good academic research. As such, they can appropriately extrapolate, or limit their extrapolations, to ensure that the lessons from their research are appropriately framed and applied, and they can help the other stakeholders identify the limits or opportunities posed by their experiences. Without this, the Forum poses a risk of encouraging bad extrapolations and the adoption of 'best practices' without a context that explains why those practices worked in the first place.
The Forum's general purpose only works when academics are integrated into the discussion each year. Other stakeholders can lay claim to a particular pillar – and the Working Group has done a great job of ensuring that stakeholders are appropriately and prominently featured in the 'right' pillars. When the Forum's topic was the 2nd pillar, businesses dominated; this year, the number of state actors means you could be forgiven for thinking this is just any other session of the Human Rights Council; and when we focus on remedies, victims and civil society are (rightly) placed front and centre to discuss the difficulties of accessing remedies. The fourth stakeholder group, academics, do not have a pillar and this is appropriate because each of the pillars are supposed to be informed by research, not just ideology and one-off experiences. This only works, however, if those whose job is professional research on the activities of the other stakeholder groups are actually integrated into those discussions. For the development of BHR to have a strong foundation, the Forum needs to integrate and amplify research-based and research-informed approaches to problem-solving.
We're also generally not peddling propaganda. There have been times when it felt like the Forum was co-sponsored by a particular company or a particular state. Rarely does corporate (or state) involvement come with the type of honest dialogue necessary if we're going to advance the work of human rights. (I have to note that I recently had an experience where Verizon hit the nail on the head their approach – honesty, commitment to actual, sustained engagement with human rights; it was everything the Forum should be and too often is not. And it was at the Urban Morgan Institute for Human Rights, so it shows it can happen in difficult spaces for corporations; it just doesn't often happen at the Forum.) Instead, the Forum is a branding fair whereby a business or state that has done a minimal amount of work gets to peddle itself as the next great savior of human rights, and the rest of the Forum praises them for their commitment. Academics, on the other hand, don't have to justify our attendance at the Forum to shareholders, we don't have enough money to corrupt other people into being quiet when we're wrong, and it's often viewed (rightly) as a sign of academic maturity to be able to admit you once were wrong about something. If the Forum is to serve its purpose as a place for growth and development within BHR, we should be fostering this type of non-propagandist self-reflection rather than allowing stakeholders to present themselves as eternally flawless.
While we do engage with big-picture examinations, we are also often grounded in our approaches. Most BHR academics – as this year's academic panel explains – are not just scholars and teachers but we also engage in partnerships with civil society, businesses, and states, and therefore ground our theory in practice and are able to tackle both the big picture and the small one in a single session. We will not, for example, ask businesses to predict armed conflicts; we will, however, help them understand what they need to be paying attention to so they know their risks in advance.
We often fit well in diplomatic conversations because we learn how to tell people they're wrong without being mean about it. When our students say off-the-wall things like "9-11 was a conspiracy by aliens trying to invade Earth and create a war" (just to be clear, this is a made-up example and not a real comment from any of my classes), we have to respond with a straight-face telling them they're wrong without telling them they're so wrong that if they ran a mile in the right direction they'd still not be able to see the line between wrong and right. Instead, I say things like, "Well, that's an interesting approach, but the law points to a different one…." Or "Okay, but what if instead, you started from the proposition that it was caused by humans. How would that change your analysis?" Now, I'm not going to pretend this is my strongest point as an academic – I'm just as likely to say, "no; anyone else want to try?" – but we do have a skill for diplomatically correcting people that allows for engagement without allowing for fallacies to reign supreme in a discussion. Given where we are in the age of misinformation, this is an important skill for any event, but it's particularly important in a setting where the agendas and propaganda of others could have long-term harmful effects.
Finally, frankly, it's just disrespectful to one of the four largest stakeholder groups to suggest we have nothing to offer the discussion, and we would resoundingly reject the notion that any of the other large stakeholder groups have nothing to offer. Even if I think most of the companies that participate in the Forum as panelists do so in order to promote their brand and with limited self-reflection, that doesn't mean I think they should be sidelined from the Forum. That means they should be challenged as part of the Forum. But for reasons I cannot understand, there continues to be this sentiment that academics don't really belong in the Forum, they should just be there observing it. It's like we should be grateful that we have access to these other stakeholders even if there's nothing that facilitates a dialogue between them and us. As sub-issues to this, let me just note:

I don't understand how you have a regional dialogue about lessons for investment in post-conflict situations without including any of the academics behind the 10 Principles that have been used by WEOG states in developing their approaches. Even if they're just there to help with Q&A. And, yes, I did the bulk of the drafting of those Principles but I wasn't alone and if you don't want to hear from me, I'm always happy to promote others who should be listened to in this context (Clara Sandoval, Pablo de Greiff, and Naomi Roht-Arriaza were particularly helpful in the drafting process, but they also weren't the only ones).
I don't understand how Nestlé is worth listening to but academics who have independently studied the structural impediments to Nestlé being successful aren't involved in this. (I also don't understand how we're giving Nestlé a forum for self-promotion on their work in the cocoa industry when they continue to pillage water from communities, but maybe that's just me.)
So that's why you should care about the academics. Now, how well is the Working Group doing this? In one word: badly.
This will, in fact, be the last time I do this statistic-keeping of women in academia because, honestly, I have too many things to do with my life that aren't futile. I've clearly stated that I think the current approach to inclusion/exclusion of academics is a mistake; I've shown for three years how that mistake manifests itself. With no difference to show for it, I will use my time – even the brief amount I spend on this each year – to do something more productive, or at least cooler (I hear Taylor Swift will be touring in Europe soon and I've not been to the festivals in Roskilde or Berlin… just in case you were wondering what to get me for my birthday).
It should be noted that the academics that are known to be speaking or moderating (and here, I will include all of them because they deserve it) are: James Cockayne; Jesse Coleman; Genevieve LeBaron; Chiara Macchi; Jena Martin; Robert McCorquodale; Justine Nolan; Carolina Olarte; Jose Francesco Rios Gomez; Michael Santoro; Sara Seck; Andrea Shemberg; Olena Uvarova; Florian Wettstein; and me.
Tara Van Ho is a member of the Business and Human Rights Journal editorial board. Learn more about the journal here.