3
results
in Advances in Political Science
---
The Dilemmas of Economic Policy
Published online:

03 March 2010

Print publication:

16 May 1991

The role legislatures play in the public policy-making process is of central concern to political scientists. Conventional wisdom claims that all legislatures except perhaps the US Congress are either marginal to the policy-making process or becoming increasingly so. In Legislatures in the Policy Process leading specialists in comparative government reassess this view and significantly advance research on the influence of legislatures. In the opening chapter, David Olson and Michael Mezey identify three categories of variables - external influences, internal influences and policy attributes - which can affect the policy-making role of legislatures. They specify sixteen hypotheses that describe the relationship between these variables and the policy participation of legislatures. In subsequent chapters, these hypotheses are examined through a series of individual and comparative country studies which focus upon the role of the legislatures in various aspects of economic policy making. These include the influence of the French, German, British and US legislatures on monetary policy; the role of the Brazilian Congress and Indian Parliament in computer and electronics policy and the part played by the Polish Sejm in labour policy.
---
National Experiences and Theoretical Crossroads
Published online:

05 February 2012

Print publication:

28 March 1991

Modern social sciences have been committed to the improvement of public policy. However, doubts have arisen about the possibility and desirability of a policy-oriented social science. In this book, leading specialists in the field analyse both the development and failings of policy-oriented social science. In contrast to other writings on the subject, this volume presents a distinctively historical and comparative approach. By looking at earlier periods, the contributors demonstrate how policy orientation has been central to the emergence and evolution of the social sciences as a form of professional activity. Case studies of rarely examined societies such as Poland, Brazil and Japan further demonstrate the various ways in which intellectual developments have been shaped by the societal contexts in which they have emerged and how they have taken part in the shaping of these societies.
---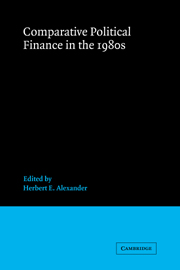 Published online:

07 December 2009

Print publication:

25 August 1989

This book concerns the financing of politics, political parties, candidates and elections in eleven countries. It contains case studies of individual countries, various country-by-country comparisons, and a conceptual framework enabling the reader to understand the context of financial sources and implications of funding sources. All the chapters demonstrate the problems common to democracies seeking to regulate uses and abuses of money in politics in pluralistic societies in which there are numerous openings for political disbursements; many present themes emphasizing forms of public funding (alternatively called state aid in some countries) in which governments assist parties or candidates to subsist and compete. Professor Alexander has assembled a distinguished international team of contributors to present this first major appraisal of such a vital aspect of democratic practice for nearly twenty years.
---