2
results
in Artificial Intelligence for Social Good
---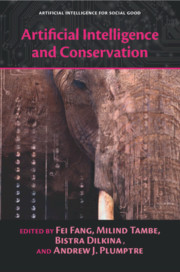 Coming soon

Expected online publication date:

January 2019

Print publication:

31 January 2019

With the increasing public interest in artificial intelligence (AI), there is also increasing interest in learning about the benefits that AI can deliver to society. This book focuses on research advances in AI that benefit the conservation of wildlife, forests, coral reefs, rivers, and other natural resources. It presents how the joint efforts of researchers in computer science, ecology, economics, and psychology help address the goals of the United Nations' 2030 Agenda for Sustainable Development. Written at a level accessible to conservation professionals and AI researchers, the book offers both an overview of the field and an in-depth view of how AI is being used to understand patterns in wildlife poaching and enhance patrol efforts in response, covering research advances, field tests and real-world deployments. The book also features efforts in other major conservation directions, including protecting natural resources, ecosystem monitoring, and bio-invasion management through the use of game theory, machine learning, and optimization.
---
Published online:

24 November 2018

Print publication:

29 November 2018

This book marries social work and artificial intelligence to provide an introductory guide for using AI for social good. Following an introductory chapter laying out approaches and ethical principles of using AI for social work interventions, the book describes in detail an intervention to increase the spread of HIV information by using algorithms to determine the key individuals in a social network of homeless youth. Other chapters present interdisciplinary collaborations between AI and social work students, including a chatbot for sexual health information and algorithms to determine who is at higher stress among persons with Type 2 Diabetes. For students, academic researchers, industry leaders, and practitioners, these real-life examples from the USC Center for Artificial Intelligence in Society demonstrate how social work and artificial intelligence can be used in tandem for the greater good.
---