3
results
in Cambridge Asylum and Migration Studies
---
Europe's Supranational Courts and the Dilemma of Migrant Vulnerability

Coming soon

Expected online publication date:

May 2019

Print publication:

31 May 2019

While nominally protected across Europe, the human rights of vulnerable migrants often fail to deliver their promised benefits in practice. This socio-legal study explores both the concrete expressions and possible causes of this persistent deficit. For this purpose, it presents an innovative multifaceted evaluation of selected judgements of the European Court of Human Rights and the Court of Justice of the EU pertaining to such complex questions as the protection of persons fleeing from indiscriminate violence, homosexual asylum seekers, the Dublin Regulation, and the externalisation of border control. Highlighting the demanding character of migrant rights, the book also discusses some steps that could be taken to improve the effectiveness of Europe's supranational human rights system including changes in judicial and litigation practice as well as a reconceptualization of human rights as existential commitments.
---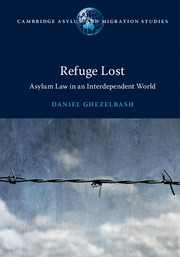 Asylum Law in an Interdependent World
Published online:

09 February 2018

Print publication:

22 February 2018

As Europe deals with a so-called 'refugee crisis', Australia's harsh border control policies have been suggested as a possible model for Europe to copy. Key measures of this system such as long-term mandatory detention, intercepting and turning boats around at sea, and the extraterritorial processing of asylum claims were actually used in the United States long before they were adopted in Australia. The book examines the process through which these policies spread between the United States and Australia and the way the courts in each jurisdiction have dealt with the measures. Daniel Ghezelbash's innovative interdisciplinary analysis shows how policies and practices that 'work' in one country might not work in another. This timely book is a must-read for those interested in preserving the institution of asylum in a volatile international and domestic political climate.
---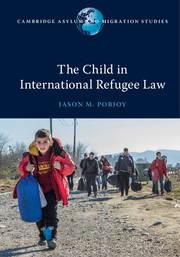 Published online:

04 May 2017

Print publication:

27 April 2017

Children are the victims of some of the most devastating examples of state-sanctioned and private human rights abuse. In increasing numbers, they are attempting to find international protection, and are forced to navigate complex administrative and legal processes that fail to take into account their distinct needs and vulnerabilities. The key challenges they face in establishing entitlement to refugee protection are their invisibility and the risk of incorrect assessment. Drawing on an extensive and original analysis of jurisprudence of leading common law jurisdictions, this book undertakes an assessment of the extent to which these challenges may be overcome by greater engagement between international refugee law and international law on the rights of the child. The result is the first comprehensive study on the manner in which these two mutually reinforcing legal regimes can interact to strengthen the protection of refugee children.
---