2

results

in The Cambridge History of Scandinavia
---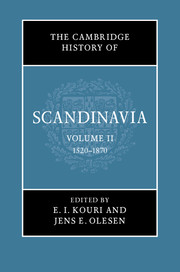 Volume 2, 1520–1870
Published online:

05 July 2016

Print publication:

24 March 2016

Volume 2 of The Cambridge History of Scandinavia provides a comprehensive and authoritative account of the Scandinavian countries from the close of the Middle Ages through to the formation of the nation states in the mid-nineteenth century. Beginning in 1520, the opening chapters of the volume discuss the reformation of the Nordic states and the enormous impact this had on the social structures, cultural identities and traditions of individual countries. With contributions from 38 leading historians, the book charts the major developments that unfolded within this crucial period of Scandinavian history. Chapters address topics such as material growth and the centralisation of power in the sixteenth and seventeenth centuries as well as the evolution of trade, foreign policy and client states in the eighteenth century. Volume 2 concludes by discussing the new economic and social orders of the nineteenth century in connection with the emergence of the nation states.
---
Volume 1, Prehistory to 1520
Published online:

28 March 2008

Print publication:

04 September 2003

This volume presents a comprehensive exposition of both the prehistory and medieval history of the whole of Scandinavia. The first part of the volume surveys the prehistoric and historic Scandinavian landscape and its natural resources, and tells how man took possession of this landscape, adapting culturally to changing natural conditions and developing various types of community throughout the Stone, Bronze and Iron Ages. The rest - and most substantial part of the volume - deals with the history of Scandinavia from the Viking Age to the end of the Scandinavian Middle Ages (c. 1520). The external Viking expansion opened Scandinavia to European influence to a hitherto unknown degree. A Christian church organisation was established, the first towns came into being, and the unification of the three medieval kingdoms of Scandinavia began, coinciding with the formation of the unique Icelandic 'Free State'.
---