3
results
in Cambridge Monographs on Cancer Research
---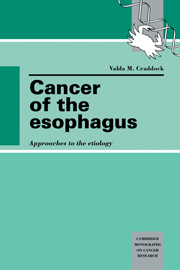 Approaches to the Etiology
Published online:

07 September 2010

Print publication:

10 June 1993

The book deals briefly with the normal structure, functioning and biochemistry of the esophagus and with the histological and genetic changes accompanying the development of esophageal cancer in humans and animals. Factors implicated in causing esophageal cancer are described in relation to its very dramatic epidemiology. Thus dietary deficiencies and consumption of foods contaminated by Fusaria mycotoxins are discussed in connection with the extremely high incidence of the disease in certain sharply demarcated regions in China and South Africa, and alcohol and tobacco use are discussed in relation to the epidemiology in Europe and USA. Other hazards mentioned include opium in Iran, betel nut in Asia and bracken in Japan. The sole group of chemicals known to be very potent esophageal carcinogens in animal experiments, the nitrosamines, are described especially in terms of the widespread human exposure.
---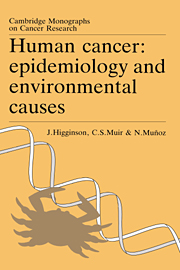 Epidemiology and Environmental Causes
Published online:

03 May 2010

Print publication:

04 June 1992

This important new reference book on human cancer provides a global picture of the epidemiology of cancer and its environmental causes. By summarising on a cancer-by-cancer basis geographical, environmental and ethical factors, the volume collates a wealth of information which, taken together, provides valuable insights into the causes of cancer and scope for its elimination and control. The contents include: (1) general epidemiological methods; (2) a review of known or suspected causes; (3) a detailed review of specific cancers; (4) a brief review of legal and ethical implications. The bibliography concentrates on recent key references and reviews.
---
Published online:

07 September 2010

Print publication:

16 June 1988

First published in 1988, this volume surveys the chemical synthesis and biological activity of the benz[a]anthracenes. These compounds occur in smoke and mineral oils and a few have been shown to be potent carcinogens. This volume was the first to review, systematically and in depth, the organic synthesis of these compounds as well as their metablolism, interactions with nucleic acids and protein, mutagenicity and carcinogenicity. Such studies have important implications in determining mechanism and specificity of chemically induced carcinogenesis.
---