3
results
in Cambridge Monographs on Plasma Physics
---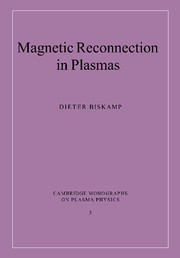 Published online:

23 December 2009

Print publication:

14 September 2000

This book, first published in 2000, provides a comprehensive introduction to the theory of magnetic field line reconnection, now a major subject in plasma physics. The book focuses on the various reconnection mechanisms dominating magnetic processes under the different plasma conditions encountered in astrophysical systems and in laboratory fusion devices. The book consists of two major parts: the first deals with the classical resistive approach, while the second presents an overview of weakly collisional or collisionless plasmas. Applications primarily concern astrophysical phenomena and dynamo theory, with emphasis on the solar and geodynamo, as well as magnetospheric substorms, the most spectacular reconnection events in the magnetospheric plasma. The theoretical procedures and results also apply directly to reconnection processes in laboratory plasmas, in particular the sawtooth phenomenon in tokamaks. The book will be of value to graduate students and researchers interested in magnetic processes both in astrophysical and laboratory plasma physics.
---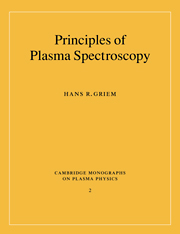 Published online:

29 August 2009

Print publication:

02 October 1997

This monograph presents a comprehensive description of the theoretical foundations and experimental applications of spectroscopic methods in plasma physics research. The first three chapters introduce the classical and quantum theory of radiation, with detailed descriptions of line strengths and high density effects. The next chapter describes theoretical and experimental aspects of spectral line broadening. The following five chapters are concerned with continuous spectra, level kinetics and cross sections, thermodynamic equilibrium relations, radiative energy transfer, and radiative energy losses. The book concludes with three chapters covering the basics of various applications of plasma spectroscopy to density and temperature measurements and to the determination of some other plasma properties. Over one thousand references not only guide the reader to original research covered in the chapters, but also to experimental details and instrumentation. This will be an important text and reference for all those working on plasmas in physics, optics, nuclear engineering, and chemistry, as well as astronomy, astrophysics and space physics.
---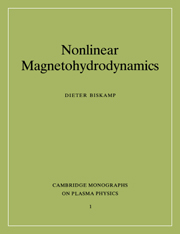 Published online:

15 December 2009

Print publication:

30 September 1993

A self-contained introduction to magnetohydrodynamics (MHD), with emphasis on nonlinear processes. Chapters 2 to 4 outline the conventional aspects of MHD theory, magnetostatic equilibrium and linear stability theory, which form a natural basis for the topics in the subsequent chapters. The main part, chapters 5 to 7, presents nonlinear theory, starting with the evolutions and saturations of individual ideas and resistive instabilities, continuing with a detailed analysis of magnetic reconnection, and concluding with the most complex nonlinear behaviour, that of MHD turbulence. The last chapters describe three important applications of the theory: disruptive processes in tokamaks, MHD effects in reversed-field pinches, and solar flares. In the presentation the focus is more on physical mechanisms than on special formalisms. The book is essential reading for researchers and graduate students interested in MHD processes both in laboratory and in astrophysical plasmas.
---