3
results
in Cambridge Science Biographies
---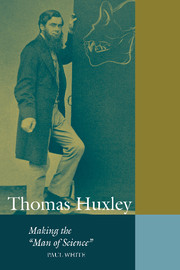 Making the 'Man of Science'
Published online:

25 June 2009

Print publication:

28 November 2002

Dubbed 'Darwin's Bulldog' for his combative role in the Victorian controversies over evolutionary theory, Thomas Huxley has been widely regarded as the epitome of the professional scientist who emerged in the nineteenth century from the restrictions of ecclesiastical authority and aristocratic patronage. Yet from the 1850s until his death in 1895, Huxley always defined himself as a 'man of science', a moral and religious figure, not a scientist. Exploring his relationships with his wife, fellow naturalists, clergymen and men of letters, White presents a new analysis of the authority of science, literature, and religion during the Victorian period, showing how these different practices were woven into a fabric of high culture, and integrated into institutions of print, education and research. He provides a substantially different view of Huxley's role in the evolution debates, and of his relations with his scientific contemporaries, especially Richard Owen and Charles Darwin.
---
Science, Illumination, and the Female Mind
Published online:

30 March 2010

Print publication:

22 October 2001

In an era when science was perceived as a male domain, Mary Somerville (1780–1872) became both the leading woman scientist of her day and an integral part of the British scientific community. She achieved this status through careful management of her gender identity and by creating rich, readable, and authoritative accounts of science that were rhetorically compelling, aesthetically satisfying, and valuable to the scientific community in the UK and abroad. This biography offers detailed analysis of the underlying patterns, themes, and rhetorical strategies of her major works and argues that Somerville employed a transcendent feminine style that retained the advantages but transcended the limitations usually associated with women's ways of knowing. The book advocates a new narrative for women's participation in science and demonstrates the many ways that gender relates to science and science functions in culture.
---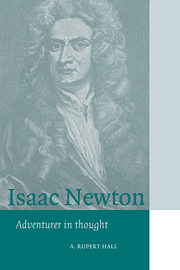 Adventurer in Thought
Published online:

12 January 2010

Print publication:

11 April 1996

In this elegant, absorbing biography of Isaac Newton (1642–1727), Rupert Hall surveys the vast field of modern scholarship in order to interpret Newton's mathematical and experimental approach to nature. Mathematics was always the deepest, most innovative and productive of Newton's interests. However, he was also a historian, theologian, chemist, civil servant, and natural philosopher. These diverse studies were unified in his single design as a Christian to explore every facet of God's creation. The story of Newton's life and discoveries has been greatly altered by exploration of his huge manuscript legacy during the last forty years, throwing new light upon his personality and intellect. Hall's discussion of this research shows that Newton cannot simply be explained as a Platonist, mystic, or magus. He remains a complex and enigmatic genius with an immensely imaginative and commonsensical mind.
---