3
results
in Cambridge Studies in Comparative Public Policy
---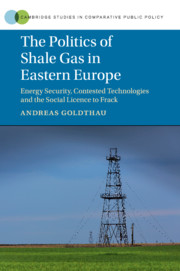 Energy Security, Contested Technologies and the Social Licence to Frack

Coming soon

Expected online publication date:

April 2018

Print publication:

30 April 2018

Fracking is a novel but contested energy technology – so what makes some countries embrace it whilst others reject it? This book argues that the reason for policy divergence lies in procedures and processes, stakeholder inclusion and whether a strong narrative underpins governmental policies. Based on a large set of primary data gathered in Poland, Bulgaria and Romania, Andreas Goldthau explores shale gas policies in Central Eastern Europe (a region strongly dependent on Russian gas imports) to unveil the importance of policy regimes for creating a 'social license' for fracking. His findings suggest that technology transfer does not happen in a vacuum but is subject to close mutual interaction with political, economic and social forces; and that national energy policy is not a matter of 'objective' policy imperatives, such as Russian import dependence, but a function of complex domestic dynamics pertaining to institutional procedures and processes, and winners and losers.
---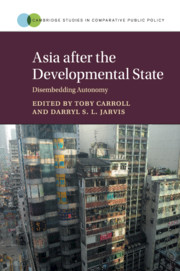 Disembedding Autonomy
Published online:

06 October 2017

Print publication:

12 October 2017

Asia after the Developmental State presents cutting-edge analyses of state-society transformation in Asia under globalisation. The volume incorporates a variety of political economy and public policy oriented positions, and collectively explores the uneven evolution of new public management and neoliberal agendas aimed at reordering state and society around market rationality. Taken together, the contributions explore the emergence of marketisation across Asia, including China, Japan, South Korea, Indonesia, Malaysia and Vietnam - what is now often described as the world's most economically dynamic region - and the degree to which marketisation has taken root, in what forms, and how this is impacting state, society and market relationships.
---
Policy Disagreement and its Media Coverage
Published online:

05 March 2016

Print publication:

07 April 2016

The work of early pluralist thinkers, from Arthur Bentley to Robert Dahl, inspired much optimism about democracy. They argued that democracy was functioning well, despite disagreements arising among the diversity of interests represented in policy-making processes. Yet it is unlikely that anyone paying attention to news coverage today would share such optimism. The media portray current policy-making processes as intractably polarized, devoid of any opportunity to move forward and adopt essential policy changes. This book aims to revive our long-lost sense of optimism about policy-making and democracy. Through original research into biotechnology policy-making in North America and Europe, Éric Montpetit shows that the depiction of policy-making offered by early pluralist thinkers is not so far off the present reality. Today's policy decision-making process - complete with disagreement among the participants - is consistent with what might be expected in a pluralist society, in sharp contrast with the negative image projected by the media.
---