3
results
in The Cambridge Urban History of Britain
---
Volume 3, 1840–1950
Published online:

28 March 2008

Print publication:

25 January 2001

The third volume in The Cambridge Urban History of Britain examines the process of urbanisation and suburbanisation from the early Victorian period to the twentieth century. Twenty-eight leading scholars provide a coherent, systematic, historical investigation of the rise of cities and towns in England, Scotland and Wales, examining not only the evolving networks and types of towns, but their economic, demographic, social, political, cultural and physical development. The contributors discuss pollution and disease, the resolution of social conflict, the relationships between towns and the surrounding countryside, new opportunities for leisure and consumption, the development of local civic institutions and identities, and the evolution of municipal and state responsibilities. This comprehensive volume gives unique insights into the development of the urban landscape. Its detailed overview and analyses of the problems and opportunities which arise shed historical light on many of the issues and challenges that we face today.
---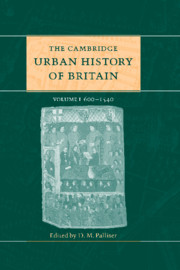 Volume 1, 600–1540
Published online:

28 March 2008

Print publication:

21 December 2000

The first volume of The Cambridge Urban History of Britain surveys the history of British towns from their post-Roman origins in the seventh century down to the sixteenth century. It provides the first ever detailed overview of the course of medieval urban development, and draws on archaeological and architectural as well as historical sources. The volume combines thematic analysis with regional and national surveys, with full coverage of developments in England, Scotland and Wales. The international team of contributors represent historical, geographical and archaeological expertise, and the whole marks a major step forward in the understanding of the medieval British town. Part I examines historiographical tradition and the origins of British towns. Parts II and III focus on the early and later medieval periods respectively, and Part IV contains a sequence of systematic regional surveys. Extensively illustrated, the volume also contains ranking lists of towns and an extensive bibliography.
---
Volume 2, 1540–1840
Published online:

28 March 2008

Print publication:

20 July 2000

The second volume of The Cambridge Urban History of Britain examines when, why, and how Britain became the first modern urban nation - the wonder of the Western world. The contributors offer a detailed analysis of the evolution of national and regional urban networks in England, Scotland and Wales, and assess the growth of all the main types of towns - from the rising imperial metropolis of London to the great provincial cities, country and market towns, and the new-style leisure and industrialising towns. They discuss problems of urban mortality and migration, the social organisation of towns, the growth of industry and the service sector, civic governance, and the rise of religious and cultural pluralism. This is the first ever comprehensive study of British towns and cities in the early modern period, the culmination of a generation of research on perhaps the most important social and geographical change in British history.
---