2
results
in Feminist Judgment Series: Rewritten Judicial Opinions
---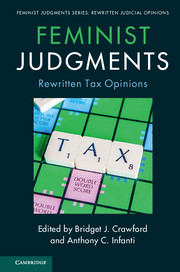 Rewritten Tax Opinions
Published online:

28 December 2017

Print publication:

28 December 2017

Could a feminist perspective change the shape of tax laws? Feminist reasoning and analysis are recognized as having tremendous potential to affect employment discrimination, sexual harassment, and reproductive rights laws - but they can likewise transform tax law (as well as other statutory or code-based areas of the law). By highlighting the importance of perspective, background, and preconceptions on reading and interpreting statutes, this volume shows what a difference feminist analysis can make to statutory interpretation. Feminist Judgments: Rewritten Tax Opinions brings together a group of scholars and lawyers to rewrite tax decisions in which a feminist emphasis would have changed the outcome, the court's reasoning, or the future direction of the law. Featuring cases including medical expense deductions for fertility treatment, gender confirmation surgery, tax benefits for married individuals, the tax treatment of tribal lands, and business expense deductions, this volume opens the way for a discussion of how viewpoint is a key factor in statutory interpretation.
---
Rewritten Opinions of the United States Supreme Court
Published online:

05 August 2016

Print publication:

02 August 2016

What would United States Supreme Court opinions look like if key decisions on gender issues were written with a feminist perspective? Feminist Judgments brings together a group of scholars and lawyers to rewrite, using feminist reasoning, the most significant US Supreme Court cases on gender from the 1800s to the present day. The twenty-five opinions in this volume demonstrate that judges with feminist viewpoints could have changed the course of the law. The rewritten decisions reveal that previously accepted judicial outcomes were not necessary or inevitable and demonstrate that feminist reasoning increases the judicial capacity for justice. Feminist Judgments opens a path for a long overdue discussion of the real impact of judicial diversity on the law as well as the influence of perspective on judging.
---