15
results
in New Approaches to the Americas
---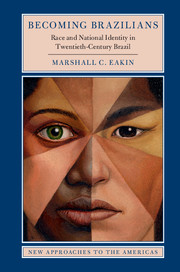 Race and National Identity in Twentieth-Century Brazil
Published online:

23 July 2017

Print publication:

25 July 2017

This book traces the rise and decline of Gilberto Freyre's vision of racial and cultural mixture (mestiçagem - or race mixing) as the defining feature of Brazilian culture in the twentieth century. Eakin traces how mestiçagem moved from a conversation among a small group of intellectuals to become the dominant feature of Brazilian national identity, demonstrating how diverse Brazilians embraced mestiçagem, via popular music, film and television, literature, soccer, and protest movements. The Freyrean vision of the unity of Brazilians built on mestiçagem begins a gradual decline in the 1980s with the emergence of an identity politics stressing racial differences and multiculturalism. The book combines intellectual history, sociological and anthropological field work, political science, and cultural studies for a wide-ranging analysis of how Brazilians - across social classes - became Brazilians.
---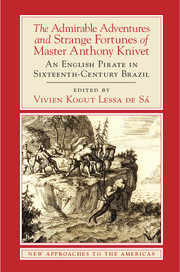 An English Pirate in Sixteenth-Century Brazil
Published online:

05 September 2015

Print publication:

15 September 2015

This is the first critical edition of the original 1625 travel account by Anthony Knivet, an Englishman who spent nine years in Brazil in the last decade of the sixteenth century. His is the oldest extensive account of Brazil written by an Englishman, but despite its historical, geographical, and ethnographic relevance it has never merited an annotated (or even a separate) edition in English. This edition, which includes a detailed introduction and extensive notes, allows the English-speaking public to follow Knivet's compelling tale. The account describes Knivet's incredible adventures, experienced roughly between 1592 and 1601, which include working as a drudge for the governor of Rio de Janeiro, escaping into the hinterland to live with native tribes and joining in expeditions of conquest and gold-seeking. The story provides a unique insight into early colonial Brazil and the myriad of people occupying its territory: Portuguese settlers, mixed-race servants, Indians, slaves, and European travellers.
---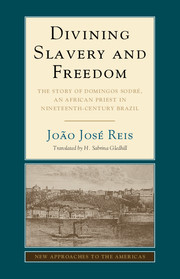 The Story of Domingos Sodré, an African Priest in Nineteenth-Century Brazil
Published online:

05 May 2015

Print publication:

20 April 2015

Since its original publication in Portuguese in 2008, this first English translation of Divining Slavery has been extensively revised and updated, complete with new primary sources and a new bibliography. It tells the story of Domingos Sodré, an African-born priest who was enslaved in Bahia, Brazil in the nineteenth century. After obtaining his freedom, Sodré became a slave owner himself, and in 1862 was arrested on suspicion of receiving stolen goods from slaves in exchange for supposed 'witchcraft'. Using this incident as a catalyst, the book discusses African religion and its place in a slave society, analyzing its double role as a refuge for blacks as well as a bridge between classes and ethnic groups (such as whites who attended African rituals and sought help from African diviners and medicine men). Ultimately, Divining Slavery explores the fluidity and relativity of conditions such as slavery and freedom, African and local religions, personal and collective experience and identities in the lives of Africans in the Brazilian diaspora.
---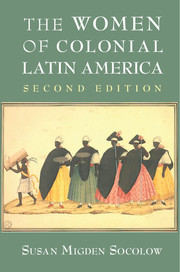 2nd edition
Published online:

05 February 2015

Print publication:

16 February 2015

In this second edition of her acclaimed volume, The Women of Colonial Latin America, Susan Migden Socolow has revised substantial portions of the book - incorporating new topics and illustrative cases that significantly expand topics addressed in the first edition; updating historiography; and adding new material on poor, rural, indigenous and slave women.
---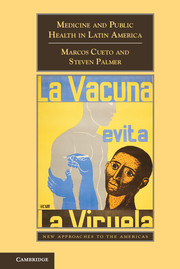 A History
Published online:

05 December 2014

Print publication:

15 December 2014

Despite several studies on the social, cultural, and political histories of medicine and of public health in different parts of Latin America and the Caribbean, local and national focuses still predominate, and there are few panoramic studies that analyze the overarching tendencies in the development of health in the region. This comprehensive book summarizes the social history of medicine, medical education, and public health in Latin America and places it in dialogue with the international historiographical currents in medicine and health. Ultimately, this text provides a clear, broad, and provocative synthesis of the history of Latin American medical developments while illuminating the recent challenges of global health in the region and other developing countries.
---
War and the Bourbon Reforms, 1713–1796
Published online:

05 June 2014

Print publication:

12 May 2014

This volume elucidates Bourbon colonial policy with emphasis on Madrid's efforts to reform and modernize its American holdings. Set in an Atlantic world context, the book highlights the interplay between Spain and America as the Spanish empire struggled for survival amid the fierce international competition that dominated the eighteenth century. The authors use extensive research in the repositories of Spain and America, as well as innovative consultation of the French Foreign Affairs archive, to bring into focus the poorly understood reformist efforts of the early Bourbons, which laid the foundation for the better-known agenda of Charles III. As the book unfolds, the narrative puts flesh on the men and women who, for better or worse, influenced colonial governance. It is the story of power, ambition and idealism at the highest levels.
---
Published online:

05 February 2013

Print publication:

21 January 2013

Immigration, Ethnicity, and National Identity in Brazil, 1808 to the Present examines the immigration to Brazil of millions of Europeans, Asians and Middle Easterners beginning in the nineteenth century. Jeffrey Lesser analyzes how these newcomers and their descendants adapted to their new country and how national identity was formed as they became Brazilians along with their children and grandchildren. Lesser argues that immigration cannot be divorced from broader patterns of Brazilian race relations, as most immigrants settled in the decades surrounding the final abolition of slavery in 1888 and their experiences were deeply conditioned by ideas of race and ethnicity formed long before their arrival. This broad exploration of the relationships between immigration, ethnicity and nation allows for analysis of one of the most vexing areas of Brazilian study: identity.
---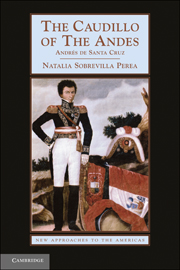 Andrés de Santa Cruz
Published online:

05 June 2012

Print publication:

31 January 2011

Born in La Paz in 1792, Andrés de Santa Cruz lived through the turbulent times that led to independence across Latin America. He fought to shape the newly established republics, and between 1836 and 1839 he created the Peru-Bolivia Confederation. The epitome of an Andean caudillo, with armed forces at the center of his ideas of governance, he was a state builder whose ambition ensured a strong and well-administered country. But the ultimate failure of the Confederation had long-reaching consequences that still have an impact today. The story of his life introduces students to broader questions of nationality and identity during this turbulent transition from Spanish colonial rule to the founding of Peru and Bolivia.
---
2nd edition
Published online:

05 June 2012

Print publication:

26 April 2010

This survey is a synthesis of the economic, social, cultural, and political history of the Atlantic slave trade, providing the general reader with a basic understanding of the current state of scholarly knowledge of forced African migration and compares this knowledge to popular beliefs. The Atlantic Slave Trade examines the four hundred years of Atlantic slave trade, covering the West and East African experiences, as well as all the American colonies and republics that obtained slaves from Africa. It outlines both the common features of this trade and the local differences that developed. It discusses the slave trade's economics, politics, demographic impact, and cultural implications in relationship to Africa as well as America. Finally, it places the slave trade in the context of world trade and examines the role it played in the growing relationship between Asia, Africa, Europe, and America. This new edition incorporates the latest findings of the last decade in slave trade studies carried out in Europe and America. It also includes new data on the slave trade voyages which have just recently been made available to the public.
---
Ecology and War in the Greater Caribbean, 1620–1914
Published online:

05 June 2012

Print publication:

11 January 2010

This book explores the links among ecology, disease, and international politics in the context of the Greater Caribbean - the landscapes lying between Surinam and the Chesapeake - in the seventeenth through early twentieth centuries. Ecological changes made these landscapes especially suitable for the vector mosquitoes of yellow fever and malaria, and these diseases wrought systematic havoc among armies and would-be settlers. Because yellow fever confers immunity on survivors of the disease, and because malaria confers resistance, these diseases played partisan roles in the struggles for empire and revolution, attacking some populations more severely than others. In particular, yellow fever and malaria attacked newcomers to the region, which helped keep the Spanish Empire Spanish in the face of predatory rivals in the seventeenth and early eighteenth centuries. In the late eighteenth and through the nineteenth century, these diseases helped revolutions to succeed by decimating forces sent out from Europe to prevent them.
---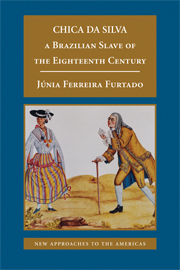 A Brazilian Slave of the Eighteenth Century
Published online:

05 September 2014

Print publication:

17 November 2008

Júnia Ferreira Furtado offers a fascinating study of the world of a freed woman of color in a small Brazilian town where itinerant merchants, former slaves, Portuguese administrators and concubines interact across social and cultural lines. The child of an African slave and a Brazilian military nobleman of Portuguese descent, Chica da Silva won her freedom using social and matrimonial strategies. But her story is not merely the personal history of a woman, or the social history of a colonial Brazilian town. Rather, it provides a historical perspective on the cultural universe she inhabited, and the myths that were created around her in subsequent centuries, as Chica de Silva came to symbolize both an example of racial democracy and the stereotype of licentiousness and sensuality always attributed to the black or mulatta female in the Brazilian popular imagination.
---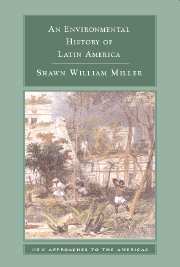 Published online:

05 February 2015

Print publication:

27 August 2007

A narration of the mutually mortal historical contest between humans and nature in Latin America. Covering a period that begins with Amerindian civilizations and concludes in the region's present urban agglomerations, the work offers an original synthesis of the current scholarship on Latin America's environmental history and argues that tropical nature played a central role in shaping the region's historical development. Human attitudes, populations, and appetites, from Aztec cannibalism to more contemporary forms of conspicuous consumption, figure prominently in the story. However, characters such as hookworms, whales, hurricanes, bananas, dirt, butterflies, guano, and fungi make more than cameo appearances. Recent scholarship has overturned many of our egocentric assumptions about humanity's role in history. Seeing Latin America's environmental past from the perspective of many centuries illustrates that human civilizations, ancient and modern, have been simultaneously more powerful and more vulnerable than previously thought.
---
Published online:

05 June 2012

Print publication:

25 June 2007

This 2007 book is an introductory history of racial slavery in the Americas. Brazil and Cuba were among the first colonial societies to establish slavery in the early sixteenth century. Approximately a century later British colonial Virginia was founded, and slavery became an integral part of local culture and society. In all three nations, slavery spread to nearly every region, and in many areas it was the principal labor system utilized by rural and urban elites. Yet long after it had been abolished elsewhere in the Americas, slavery stubbornly persisted in the three nations. It took a destructive Civil War in the United States to bring an end to racial slavery in the southern states in 1865. In 1866 slavery was officially ended in Cuba, and in 1888 Brazil finally abolished this dreadful institution, and legalized slavery in the Americas came to an end.
---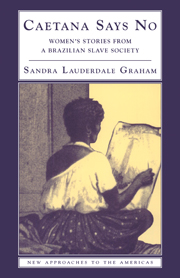 Women's Stories from a Brazilian Slave Society
Published online:

05 February 2015

Print publication:

05 September 2002

This 2002 book presents the true and dramatic accounts of two nineteenth-century Brazilian women - one young and born a slave, the other old and from an illustrious planter family - and how each sought to retain control of their lives: the slave woman struggling to avoid an unwanted husband; the woman of privilege assuming a patriarch's role to endow a family of her former slaves with the means for a free life. But these women's stories cannot be told without also recalling how their decisions drew them ever more firmly into the orbits of the worldly and influential men who exercised power in their lives. These are stories with a twist: in this society of radically skewed power, Lauderdale Graham reveals that more choices existed for all sides than we first imagine. Through these small histories she casts new light on larger meanings of slave and free, female and male.
---
Published online:

05 June 2012

Print publication:

18 May 2000

This book presents an overview of the varied experiences of women in colonial Spanish and Portuguese America. Beginning with the cultures that would produce the Latin American world, the book traces the effects of conquest, colonization, and settlement on colonial women. The book also examines the expectations, responsibilities, and limitations facing women in their varied roles, stressing the ways in which race, social status, occupation, and space altered women's social and economic realities.
---