3
results
in Slaveries since Emancipation
---
New Histories of Past and Present Slaveries
Published online:

10 August 2018

Print publication:

23 August 2018

Slavery's expansion across the globe often escapes notice because it operates as an underground criminal enterprise, rather than as a legal institution. In this volume, Elizabeth Swanson and James Brewer Stewart bring together scholars from across disciplines to address and expose the roots of modern-day slavery from a historical perspective as a means of supporting activist efforts to fight it in the present. They trace modern slavery to its many sources, examining how it is sustained and how today's abolitionists might benefit by understanding their predecessors' successes and failures. Using scholarship also intended as activism, the volume's authors analyze how the history of African American enslavement might illuminate or obscure the understanding of slavery today and show how the legacies of earlier forms of slavery have shaped human bondage and social relations in the twenty-first century.
---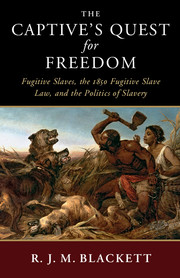 Fugitive Slaves, the 1850 Fugitive Slave Law, and the Politics of Slavery
Published online:

19 January 2018

Print publication:

25 January 2018

This magisterial study, ten years in the making by one of the field's most distinguished historians, will be the first to explore the impact fugitive slaves had on the politics of the critical decade leading up to the Civil War. Through the close reading of diverse sources ranging from government documents to personal accounts, Richard J. M. Blackett traces the decisions of slaves to escape, the actions of those who assisted them, the many ways black communities responded to the capture of fugitive slaves, and how local laws either buttressed or undermined enforcement of the federal law. Every effort to enforce the law in northern communities produced levels of subversion that generated national debate so much so that, on the eve of secession, many in the South, looking back on the decade, could argue that the law had been effectively subverted by those individuals and states who assisted fleeing slaves.
---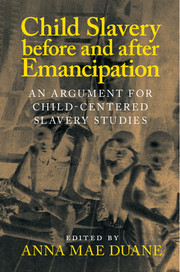 An Argument for Child-Centered Slavery Studies
Published online:

02 March 2017

Print publication:

17 February 2017

If we are to fully understand how slavery survived legal abolition, we must grapple with the work that abolition has left undone, and dismantle the structures that abolition has left in place. Child Slavery before and after Emancipation seeks to enable a vital conversation between historical and modern slavery studies - two fields that have traditionally run along parallel tracks rather than in relation to one another. In this collection, Anna Mae Duane and her interdisciplinary group of contributors seek to build historical and contemporary bridges between race-based chattel slavery and other forms of forced child labor, offering a series of case studies that illuminate the varied roles of enslaved children. Duane provides a provocative, historically grounded set of inquiries that suggest how attending to child slaves can help to better define both slavery and freedom.
---