2
results
in Cambridge History of Jewish Philosophy
---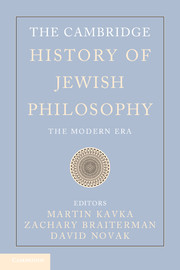 The Modern Era
Volume 2
Published online:

28 September 2012

Print publication:

07 May 2012

The second volume of The Cambridge History of Jewish Philosophy provides a comprehensive overview of Jewish philosophy from the seventeenth century to the present day. Written by a distinguished group of experts in the field, its essays examine how Jewish thinking was modified in its encounter with modern Europe and America and challenge longstanding assumptions about the nature and purpose of modern Jewish philosophy. The volume also treats modern Jewish philosophy's continuities with premodern texts and thinkers, the relationship between philosophy and theology, the ritual and political life of the people of Israel and the ways in which classic modern philosophical categories help or hinder Jewish self-articulation. These essays offer readers a multi-faceted understanding of the Jewish philosophical enterprise in the modern period.
---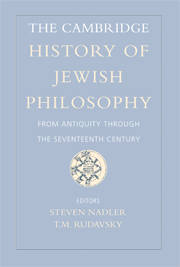 From Antiquity through the Seventeenth Century
Volume 1
Published online:

28 May 2009

Print publication:

15 December 2008

The first volume in this comprehensive work is an exploration of the history of Jewish philosophy from its beginnings in antiquity to the early modern period, with a particular emphasis on medieval Jewish thought. Unlike most histories, encyclopedias, guides, or companions of Jewish philosophy, this volume is organized by philosophical topic rather than by chronology or individual figures. There are sections on logic and language; natural philosophy; epistemology, philosophy of mind, and psychology; metaphysics and philosophical theology; and practical philosophy. There are also chapters on the intellectual background of Jewish philosophy, including Islamic and Greek thought and the Jewish philosophical textual traditions. With essays by leading scholars in the field, this volume provides the reader with a wonderful overview of the richness and sophistication of Jewish philosophy in its golden age.
---