3
results
in The Cambridge History of the Cold War
---
Volume 2, Crises and Détente
Print publication:

25 March 2010

Volume II of The Cambridge History of the Cold War examines the developments that made the Cold War a long-lasting international system during the 1960s and 1970s. A team of leading scholars explains how the Cold War seemed to stabilize after the Cuban Missile Crisis in 1962 and how this sense of increased stability evolved into the détente era of the early 1970s. The authors outline how conflicts in the Third World, as well as the interests and ideologies of the superpowers, eroded the détente process. They delve into the social and economic roots of the conflict, illuminate processes of integration and disintegration, analyze the arms race and explore the roles of intelligence, culture and national identities. Discussing the newest findings on US and Soviet foreign policy and examining crises inside and outside of Europe, this authoritative volume will define Cold War studies for years to come.
---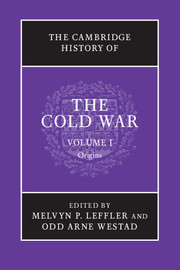 Volume 1, Origins
Print publication:

25 March 2010

This volume examines the origins and early years of the Cold War. In the first comprehensive reexamination of the period, a team of leading scholars shows how the conflict evolved from the geopolitical, ideological, economic and sociopolitical environments of the two world wars and interwar period, and discusses how markets, ideas and cultural interactions affected political discourse, diplomacy and strategy after World War II. The chapters focus not only on the United States and the Soviet Union, but also on critical regions such as Europe, the Balkans and East Asia. The authors consider the most influential statesmen of the era and address issues that mattered to people around the globe: food, nutrition and resource allocation; ethnicity, race and religion; science and technology; national autonomy, self-determination and sovereignty. In so doing, they illuminate how people worldwide shaped the evolution of the increasingly bipolar conflict and, in turn, were ensnared by it.
---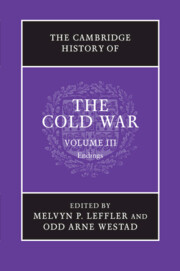 Volume 3, Endings
Print publication:

25 March 2010

Volume III of The Cambridge History of the Cold War examines the evolution of the conflict from the Helsinki Conference of 1975 until the Soviet collapse in 1991. A team of leading scholars analyzes the economic, social, cultural, religious, technological and geopolitical factors that ended the Cold War and discusses the personalities and policies of key leaders such as Brezhnev, Reagan, Gorbachev, Thatcher, Kohl and Deng Xiaoping. The authors show how events throughout the world shaped the evolution of Soviet-American relations and they explore the legacies of the superpower confrontation in a comparative and transnational perspective. Individual chapters examine how the Cold War affected and was affected by environmental issues, economic trends, patterns of consumption, human rights and non-governmental organizations. The volume represents the new international history at its best, emphasizing broad social, economic, demographic and strategic developments while keeping politics and human agency in focus.
---