3
results
in Cambridge Oceanic Histories
---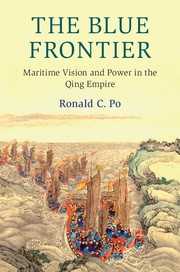 Maritime Vision and Power in the Qing Empire
Published online:

17 August 2018

Print publication:

23 August 2018

In this revisionist history of the eighteenth-century Qing Empire from a maritime perspective, Ronald C. Po argues that it is reductive to view China over this period exclusively as a continental power with little interest in the sea. With a coastline of almost 14,500 kilometers, the Qing was not a landlocked state. Although it came to be known as an inward-looking empire, Po suggests that the Qing was integrated into the maritime world through its naval development and customs institutionalization. In contrast to our orthodox perception, the Manchu court, in fact, deliberately engaged with the ocean politically, militarily, and even conceptually. The Blue Frontier offers a much broader picture of the Qing as an Asian giant responding flexibly to challenges and extensive interaction on all frontiers - both land and sea - in the long eighteenth century.
---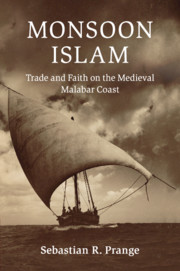 Trade and Faith on the Medieval Malabar Coast
Published online:

28 April 2018

Print publication:

03 May 2018

Between the twelfth and sixteenth centuries, a distinct form of Islamic thought and practice developed among Muslim trading communities of the Indian Ocean. Sebastian R. Prange argues that this 'Monsoon Islam' was shaped by merchants not sultans, forged by commercial imperatives rather than in battle, and defined by the reality of Muslims living within non-Muslim societies. Focusing on India's Malabar Coast, the much-fabled 'land of pepper', Prange provides a case study of how Monsoon Islam developed in response to concrete economic, socio-religious, and political challenges. Because communities of Muslim merchants across the Indian Ocean were part of shared commercial, scholarly, and political networks, developments on the Malabar Coast illustrate a broader, trans-oceanic history of the evolution of Islam across monsoon Asia. This history is told through four spaces that are examined in their physical manifestations as well as symbolic meanings: the Port, the Mosque, the Palace, and the Sea.
---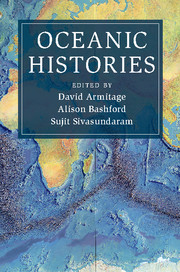 Published online:

01 December 2017

Print publication:

07 December 2017

Oceanic Histories is the first comprehensive account of world history focused not on the land but viewed through the 70% of the Earth's surface covered by water. Leading historians trace the history of the Indian, Pacific, and Atlantic Oceans and seas, from the Arctic and the Baltic to the South China Sea and the Sea of Japan/Korea's East Sea, over the longue durée. Individual chapters trace the histories and the historiographies of the various oceanic regions, with special attention given to the histories of circulation and particularity, the links between human and non-human history and the connections and comparisons between parts of the World Ocean. Showcasing oceanic history as a field with a long past and a vibrant future, these authoritative surveys, original arguments and guides to research make this volume an indispensable resource for students and scholars alike.
---