ISSN:

1751-7311 (Print)

,

1751-732X (Online)

Editor:

Isabelle Ortigues-Marty INRA, Clermont-Theix, France
Animal publishes the best, innovative and cutting-edge science that relates to animals (farmed or managed) used for animal production, and that is relevant to whole animal outcomes, and/or to animal management practices. Papers can be accepted from all species if they are in, or contribute knowledge to, animal production systems. Animal is essential reading for all animal scientists, stakeholders and policy makers interested in agricultural, biomedical, veterinary and environmental sciences with expected impacts on Animal Production and Productivity, Animal Welfare, Animal Health, Food Security, Environment, Climate Change, Product Quality, Human Health and Nutrition, and Sustainability of Animal Agriculture and Livestock Systems. Impacts should be of international relevance. Animal aims to publish novel and original research papers, horizon-scanning reviews and critically informative opinion papers. Papers should consider animal responses, as well as lower or upper levels of understanding, with research spanning from genes to systems. Interactions between levels of approach are encouraged to account for the integrative nature of biological systems. The main subject areas include: breeding and genetics; nutrition (monogastrics, ruminants); physiology and functional biology; welfare, behaviour and health management (welfare and behaviour; health management); livestock farming systems (livestock systems; precision livestock farming); quality of animal products.
---
Journal Issue
animal, Volume 13

/7/2019

---

Journal Issue
animal, Volume 12

/6/2018
---
Article of the month
The animal Article of the Month is selected by the Editor-in-Chief and is freely available for one month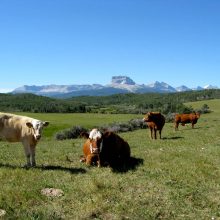 14 August 2019,
The animal article of the month for September is 'Invited review: Application of meta-omics to understand the dynamic nature of the rumen microbiome and how Demand for meat and milk is predicted to double by 2050 and meeting this increased demand represents a "grand challenge for humanity". Ruminants are among the most widely adapted livestock on earth, inhabiting outdoor environments from the arctic to the tropics....
2.026
2018 Impact Factor:
9
out of
61
Agriculture, Dairy & Animal Science
20
out of
141
Veterinary Sciences
2018 Journal Citation Reports
© Clarivate Analytics