ISSN:

1598-2408 (Print)

,

2234-6643 (Online)

Editor:

Stephan Haggard University of California, San Diego, USA
Published on behalf of the East Asia Institute

The Journal of East Asian Studies is devoted to publishing cutting edge social science on East and Southeast Asia. The journal is interested in work that combines theory, novel empirical contributions and engagement with the major substantive issues facing the region. The JEAS publishes primarily in the fields of international relations, including both international political economy and security studies, and comparative politics. However, we welcome interdisciplinary work and contributions from sociology, applied economics and business studies as well. The journal is also open to roundtables on important new books on the region, review essays and shorter research notes. SSCI indexed, the journal prides itself on a strong peer-review process.
Video: A New Penal Populism? Rodrigo Duterte, Public Opinion, and the War on Drugs in the Philippines
---
---
Latest news from the JEAS Blog
---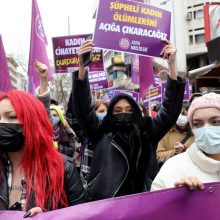 03 April 2021,
After decades of progressive reforms, since the early 2010s, Turkey has enacted a series of rollbacks on women's rights and gender equality.…
31 March 2021,
Frederik Unseld is a Ph.D. candidate at the Institute for Social Anthropology at the University of Basel, Switzerland. His Ph.D. focuses on artists in the context...
---
20 April 2021,
The shrine of Shaykh al-Islam Ahmad of Jam has been in existence since the saint's death in 536 AH/1141 AD. The first major construction project at Jam, however,...
16 April 2021,
By Graham Robertson, Senior Marketing Executive, Cambridge University Press How much do you know about the influence of mathematics and statistics? April is...
---